The collaboration between IMPRiND partners UOXF and CNRS led to a strong working laboratory model. They used induced pluripotent stem cells (iPSC) derived from both healthy subjects and patients with the α-Syn gene defects to generate human dopaminergic neurons that are primarily affected in Parkinson's disease. They found a way of 'amplifying' in a fairly pure form, the main constituent, called fibril, of α-Syn clumps directly from post-mortem Parkinson's brains. When they added these brain-derived fibrils onto the human dopaminergic neurons, they successfully triggered the aggregation of α-Syn inside the cells and observed progressive neuronal loss.

Reporting in Nature Communications, this model was used to show that the two main determinants of neuronal death are: (a) the abundance of α-Syn inside nerve cells, and (b) the structure it acquires when it assembles into aggregates. By tracking the molecular interactions of the toxic forms of α-Syn aggregates in living cells, they discovered that they cause damage partly by evading the protective effects of PARK7/DJ-1. Deletion of DJ-1 in iPSC-derived neurons increased α-Syn aggregation and neuronal death. This could explain why loss of function mutations in DJ-1 in patients causes Parkinson's disease.
These findings are important because they provide a fully human model to decipher how α-Syn clumps cause nerve damage. This model will allow us to start targeting the toxic effects of α-Syn clumps with novel therapeutics.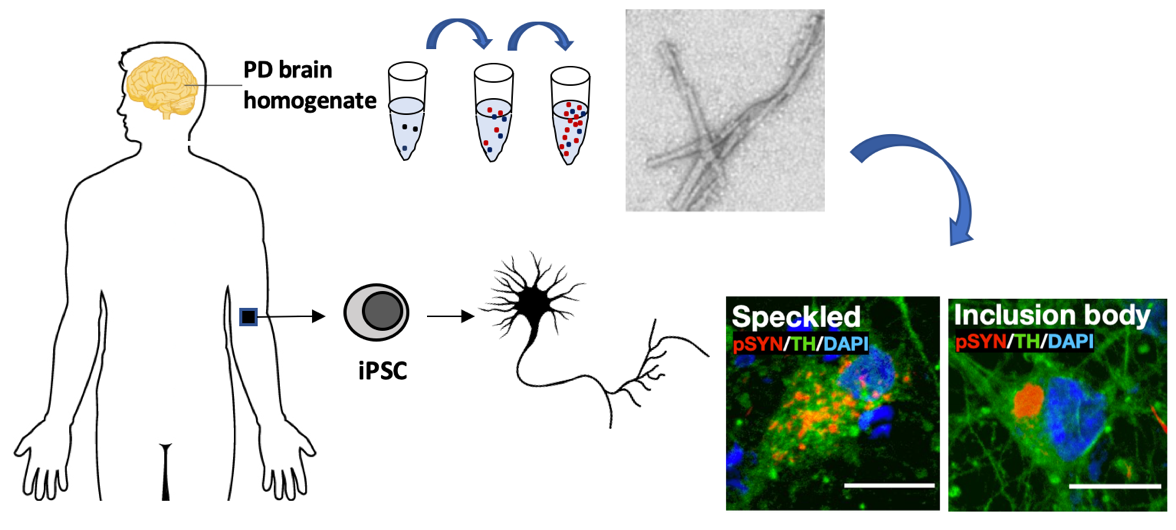 Fibrils amplified from post-mortem Parkinson's brain were used to trigger endogenous α-Syn aggregation and death in patient-derived neurons.